QuickPhase Pro is a full-featured, beautiful moon software program for
Windows
desktop computers, and soon for
Mac
computers.
We are now working on an exciting new update: Version 4.0! It is being developed for Mac and Windows computers. See QuickPhase.com for info.
Thousands of people from around the world have used the software for over 12 years!
Fishermen, hunters, gardeners, hikers, photographers, teachers, researchers, psychologists, New Age enthusiasts, paranormal investigators, astrologers, astronomers, dieters (and more) have all enjoyed the software.
QuickPhase Pro provides quick moon data for current, past and future dates and times. Data includes phase, age, percentage, postion details ... new, full, first and last quarter moon times ... and more. You can enter a precise instance and the program will calculate moon data for you. It also provides a moon calendar.
Here is a screenshot of the home screen of the current version...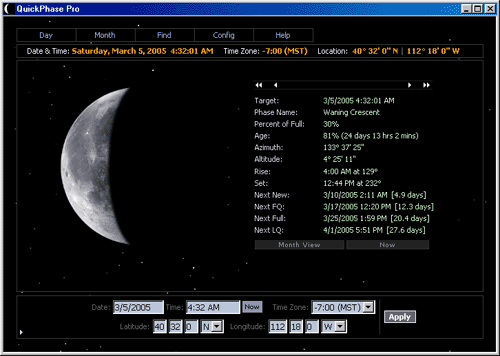 For more details on the new or current version please click here to visit QuickPhase.com
If you have an
iPhone or Android
computer and are looking for a
mobile app
, take a look at
Luna Solaria
.